Rural accommodation that will make you feel at home in the Penedès
Masia Olivera offers a series of 5 fully equipped independent houses that can be rented together or individually. Cottages with 1, 2 or 3 bedrooms, one beside the other, in the same wine tourism complex surrounded by vineyards. They are all independent and fully equipped. With capacity from 2 to 20 people.
Additionally, each cottage has a private space: some with porch and barbecue, others with a garden, or a beautiful Mediterranean style inner courtyard. All of them share a recreation area, a sport area and a parking.
5 rural accommodations with different capacity and multiple combinations
For a couple…
The Olivera Petita
If you're 2 you'll love the Olivera Petita, a lovely country loft-style cottage.
For groups of 4 people…
The Olivera de Dalt
A charming house which shares the courtyard with the Olivera de Baix.
For groups up to 4 people…
El Celler
Groups up to 4 people can lodge in El Celler, which have an exclusive courtyard.
For a group up to 6 people…
The Olivera Gran
For groups from 4 to 6 people you have L'Olivera Gran, which shares the courtyard with L'Olivera Petita.
For large families…
The Olivera de Baix
It suits withgroups of 4 up to 5 people, the perfect place for large families with young children.
For large groups…
combination of different cottages
For groups up to 6, 8 or 10 people we offer the possibility to rent two adjacent houses, which share a private garden with porch and barbecue. You can gather in one of the cottages for mealtimes or meetings.
For groups from 12 up to 20 we can add the needed room, always providing you with a space where you can gather for mealtimes or meetings.
For larger groups, we can offer a space to hold the event.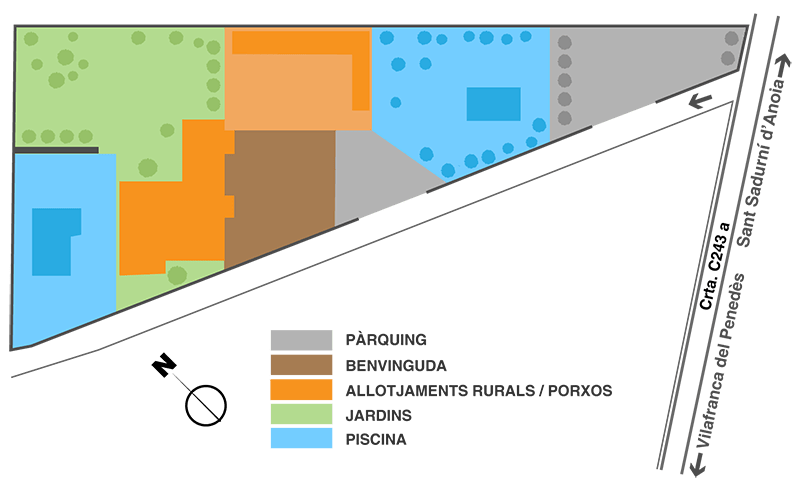 General plan of Masia Olivera tourism complex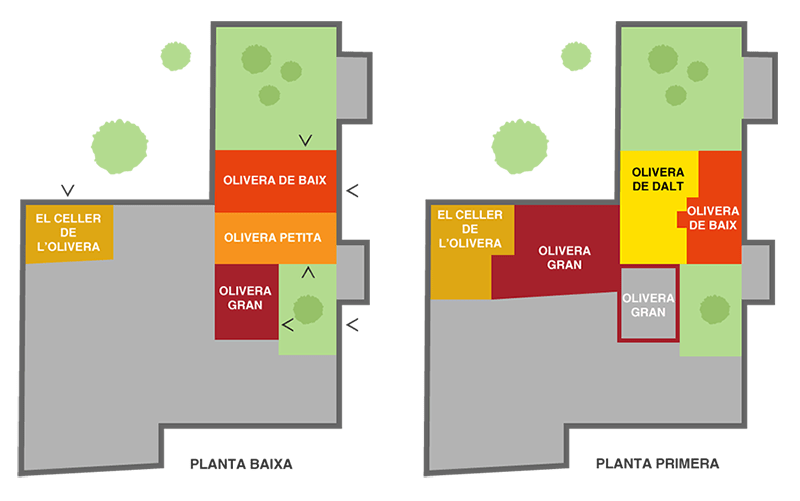 Masia Olivera cottages plan